Eureka, Missouri
July 1996
Dear Family & Friends,
SUMMERTIME GREETINGS FROM THE U S A !!!
And is it HOT!!! We are currently averaging around 95° F (about 36° C) which is not too bad for Summer but the humidity is between 80% and 90% which makes the temperature feel like 104° F (40° C). Sometimes when one walks outside it feels like you are walking into a wall of moisture. Thank goodness all the houses here come standard with an air conditioner.
At the end of May we moved out of the apartment in Whispering Hills. Our new house was not ready yet but our new friend Debbi Marchant was kind enough to put us up for a week (dogs and all). By now we accumulated quite a lot of stuff and her basement and garage was full of luggage and boxes.
At last our house was ready and we moved in on June 6 during one of St Louis' famous thunderstorms. We were rather amazed when the 40-ft container arrived at the house and it really was our furniture inside. I was convinced that we would open it and find someone else's stuff inside. Within 4 hours everything was placed inside and we could start unpacking. It was good to see al our familiar things after 10 months. One of the first items to be unloaded was the dog baskets and we loved the way the dogs reacted - they got in the baskets and promptly curled up. They didn't even wait for the pillows to be put in!
We now live in a small town called Eureka, which is ± 28 miles from downtown St. Louis. Eureka is well known for all its antique shops. Our house is in a subdivision that is situated in the Legends Country Club. There are 8 subdivisions around the golf course of which Vista Glen is one. We find it rather amusing that we traveled half way around the world to end up in a place that is so similar to Glen Vista (including the golf course and hills). Our house is built on the edge of a lake and there are woods and hills all around us.
We enjoy the wildlife a lot. There are deer, raccoons, squirrels and large birds of prey (couldn't identify them yet) in the woods and two snapper turtles, frogs and even a snake (yuck) in the lake. We took some pictures of the house and used the high tech tools to include them in this letter: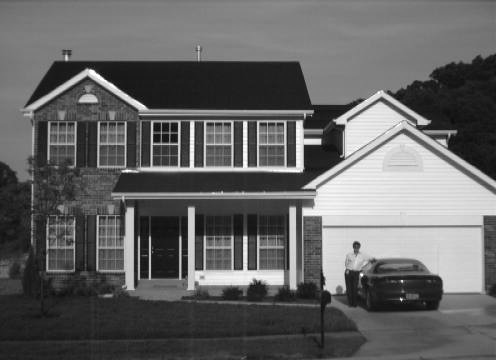 The second picture is a view of the house across our lake. Some evenings we sit on the deck and Braai (sorry Bar-B-Q), while we watch the deer grazing on the other side. Last night one even ventured down to the lake to drink!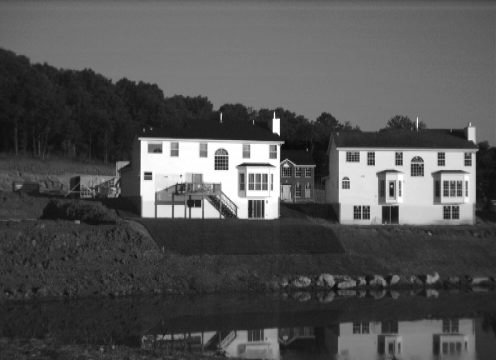 About 3 miles away is one of America's big Roller Coaster theme parks called "Six Flags over Mid America". We have tickets to go but we are just waiting for cooler days and for the summer holiday crowds to end. When I look at the huge steel constructions and high Ferris wheel my stomach lurch in anticipation.
Since we moved into the house we haven't had much time to carry on exploring St Louis. So far we have been to the Botanical Gardens, where they have quite a few South African plants including beautiful cycads. When my Dad and I went to the zoo there was a special African exhibition and we felt quite at home with the zebras, lion, giraffe etc. Another fun place is the Science Center. Here they have an Omnimax theater with a 180° domed screen. We saw a film of the first space shuttle and it felt like we were right there.
Like the South Africans the Americans are rather sport crazy. St Louis has their own football (gridiron) team called the Rams, baseball team called the Cardinals and ice hockey team called the Blue Notes. On June 16 we went to our first ball game. I found it to be as boring as a day at the cricket.
Our first 4th of July celebrations lived up to our expectations as we went from one street parade to the next. We went down to the Arch for an airshow and the fireworks, which was spectacular! There were thousands of people crammed into the fair grounds and we reckon there were more people than when Ellispark is filled to capacity!
I have done some consulting to Boatmen's Trust during May and June and when I decide to go back to work I will try my best to continue with consulting or contracting. I really enjoy the flexibility that comes with this way of working. Right now I am still enjoying the new house and my freedom!
The dogs have settled down and Snuggles is like a new dog. She is much more playful and she even seem to hear a bit better. It just shows you that they must recognize familiar things, pick up a familiar scent here and there and must have been pretty unsettled during the changes. Buttons is driving us crazy the way he wants to hunt down every living creature, from the smallest baby frog to the largest deer. I wonder what he would do if he comes face to face with a deer. We thought we lost him the other day. He spotted a raccoon and took off after it into the woods. It was very hot and humid and he kept running deeper into the forest. Tony kept yelling after him and he eventually came back totally exhausted, dehydrated and covered in burrs and ticks. I am sure he would have got lost if Tony stopped calling him. After a rest and a drink and he was ready to chase after the next thing!
Best Wishes, Tony & Annelise